Nature Málaga: nature and wellness fair from cosmetics biofoods
Natura Málaga is a very interesting exhibition that shows a multi-sectoral system which includes several stand. The fair allows you to learn about new technologies and producers who specialize in the creation of organic food, products for clothing, and cosmetics brand eco-bio.
Natura Málaga where you keep and how much does a ticket?
The fair will be held in the Palacio de Ferias y Congresos de Málaga, in this beautiful location you can attend an international event involving all enthusiasts and professionals in the field of cosmetics. The exhibition will last three days precisely from Friday, April 6 to Sunday 8 April. In these three days you will have access to the fair from 11.00 am until 20.30 in the evening, while the last day will end an hour earlier at 19.30.
Tickets to enter the fair at a cost of 3 euro, if you buy online by 5 April. If you wish you can buy tickets directly at the fair for the price of 4 Euros. The price of the ticket is only valid for one day admission. Children up to 12 years old can enter for free. The work throughout the show are all free.
Natura Málaga: the fair for healthy living and sustainable
Natura Málaga is a great event for all those who want to follow and promote a sustainable way of life and dedicated to biological innovations. The fair has many products all of BIO origin from food until the cosmetics and hygiene of the body. The cosmetics will be offered by various international brands that offer only products made with natural and organic ingredients.
In addition to products and stands of various companies you can participate in various events, workshops and conferences to enhance personal development. This fair opens for the 10th edition with 140 exhibitors, and several representatives of beauty and power, and natural techniques. In the cosmetics section you can find stands dedicated to the Certificates Eco Natural products, the Natural Cosmetics and complementary techniques, product promotion and biological services, courses and workshops on fair trade.
This event serves as a platform for raising awareness and for the care of the planet and respect for nature. In addition, children are welcome to be able to adopt lifestyles and habits that can help them grow with greater awareness.
Who will participate in Natura Malaga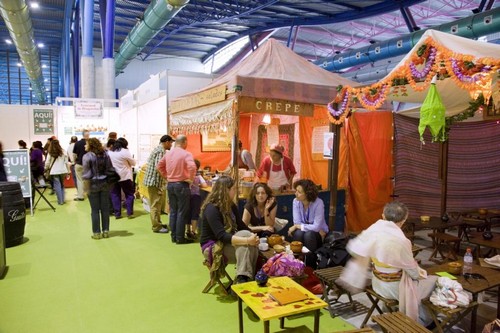 The fair and exhibition are open to all during this event you can meet people who love and consume organic products and services. Not only will this fair attended by various experts and supporters filled the dictates of care and natural resources.Finally, the fair is open to all professionals and all those who offer products and services falling within the ecological world, organic, natural and healthy. This event will give the opportunity not only to discover new products and workshops, but also to visit a city beautiful and friendly like Malaga.